MENU
• Welcome
• Introducing the Parish
• Location
• Services
• Contacts
• Our mission statement
• Annual report for 2022
• Safeguarding
• Looking back



(Website last updated on 7 December 2023)

Collect for the First Sunday of Advent
(3 December)

Almighty God,
as your kingdom dawns,
turn us from the darkness of sin
to the light of holiness,
that we may be ready to meet you
in our Lord and Saviour, Jesus Christ.

Copyright © The Archbishops' Council 2000



CHURCH SERVICES IN THE TEAM
(check the full notice sheet for variations)

Midweek
Monday 5.00 p.m. Evening Prayer, Holy Trinity
Tuesday 8.00 a.m. Morning Prayer, St John's
Tuesday 5.00 p.m. Evening Prayer, St John's
Wednesday 8.00 a.m. Morning Prayer, St John's
3rd Wednesdays 9.45 a.m. Creation Eucharist, Holy Trinity
Wednesday 5.00 p.m. Evening Prayer, Christ Church
Thursday 8.00 a.m. Morning Prayer, St John's
Thursday 12.15 p.m. Eucharist, Holy Trinity
Thursday 5.00 p.m. Evening Prayer, Holy Trinity

Saturday
9.00 a.m. Eucharist, Christ Church
10.00 a.m. (1st Saturdays) Climate Vigil, Christ Church

Sunday
8.00 a.m. (1st Sundays) BCP Holy Communion, Christ Church
9.30 a.m. Parish Eucharist, St John's
10.00 a.m. Parish Eucharist, Holy Trinity
11.15 a.m. Parish Eucharist, Christ Church
6.00 p.m. (2nd Sundays) Prayers for the Planet, St John's

TEAM MINISTRY ROTA
The Team Ministry rota for December 2023 to February 2024 is available here.

If you find a broken link or just have a comment on the site, by all means get in touch.

Welcome to the website of the Parish of Merton Priory in South Wimbledon, London SW19. We welcome and encourage all people to worship God with us. Whether or not you are new to the area, you are most welcome to join us in our acts of worship and share in our Anglican tradition.

The Merton Priory Team consists of three churches, details of which are on the following websites: Christ Church, Colliers Wood, St John the Divine, Merton, and Holy Trinity & St Peter, South Wimbledon.

z Advent and Christmas in the Team z

We look forward to welcoming you to our churches during Advent and over the Christmas period. Details of the Team events and services are shown here.
(2 December 2023)

Merton Homeless Nightshelter
Holy Trinity will be the venue on a Friday night for the Merton Homeless Nightshelter over the coming winter (start date 8 December). For further information or to volunteer for a shift (evening, night or morning), please contact Alison. They are also looking for donations of toiletries, warm socks and underwear (medium size). Thank you.
(2 December 2023)

Bible Study
The next Monthly Monday Bible Study will take place on Monday, 18 December (NOT 4 December) from 7.30 to 9 p.m. at Holy Trinity. We will be looking at 1 Corinthians chapters 12 and 13. All are welcome, even if you haven't been before.
(26 November 2023)

Fundraising for St John's
St John's is fundraising for a new integrated heating and lighting system. This is not inexpensive, so if you can help by reviewing your regular giving or through a one-off donation we would be very grateful. We are looking to match-fund for applications to trusts to cover the cost.
(8 October 2023)
Holy Trinity is open for private prayer on Mondays from 4.00 to 6.00 p.m.
(14 November 2021)
Visit our archival resource to examine and use items from the period 22 March 2020 to 25 June 2023.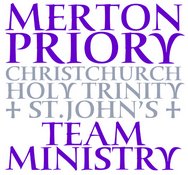 Merton Priory PCC charity number is 1134253

Prayer
Maranatha!
Open our eyes to the dignity of all people
And our ears to the cries of the earth.

Maranatha!
Let us walk in solidarity with the poor
And cleanse our world from oppression.

Maranatha!
Let us shout out for justice for all
And renew our hope for change.

Maranatha!
The Lord is coming
Let us share the Good News!

(Sue Cooper/CAFOD)

MISSION STATEMENT
The Merton Priory Team Ministry is committed to promoting the Gospel of Jesus Christ according to the doctrines and practices of the Church of England. We are guided by our mission statement, agreed in 2011:

In Merton Priory Team Ministry we aim to be a community
Faithful to God
Sharing with those in need
Caring for one another