MENU
• Welcome
• Introducing the Parish
• Location
• Services
• Contacts
• Our mission statement
• Annual report 2021
• Safeguarding
• Looking back



(Website last updated on 7 August 2022)

LATEST SUNDAY SERVICE ONLINE
7 August (Eighth Sunday after Trinity): video


CHURCH SERVICES IN THE TEAM
(check the notice sheet for variations)

Midweek
Tuesday 8.00 a.m. Morning Prayer, St John's
Tuesday 5.00 p.m. Evening Prayer, St John's
Wednesday 8.00 a.m. Morning Prayer, St John's
Wednesday 5.00 p.m. Evening Prayer, Holy Trinity
Thursday 8.00 a.m. Morning Prayer, St John's
Thursday 12.15 p.m. Eucharist, Holy Trinity
Thursday 5.00 p.m. Evening Prayer, Christ Church

Saturday
9.00 a.m. Eucharist, Christ Church

Sunday
9.30 a.m. Parish Eucharist, St John's
10.00 a.m. Parish Eucharist, Holy Trinity
11.15 a.m. Parish Eucharist, Christ Church
6.00 p.m. Simple Eucharist, St John's

Collect for the Eighth Sunday after Trinity
(7 August)
Lord God,
your Son left the riches of heaven
and became poor for our sake:
when we prosper save us from pride,
when we are needy save us from despair,
that we may trust in you alone;
through Jesus Christ our Lord.

Copyright © The Archbishops' Council 2000


TEAM MINISTRY ROTA
The Team Ministry rota for June to August 2022 is available here.

If you find a broken link or just have a comment on the site, by all means get in touch.

The Merton Priory Team Ministry
Welcome to the website of the Parish of Merton Priory in South Wimbledon, London SW19.

The Merton Priory Team consists of three churches: Christ Church, Colliers Wood, St John the Divine, Merton, and Holy Trinity & St Peter, South Wimbledon.

Church notice sheet
Click on this link to read the notice sheet for the churches in the Merton Priory Team Ministry for the Sundays up to 7 August.
(22 July 2022)

Headings below:
NEWS | WORSHIP IN CHURCH AND ONLINE | PRIVATE PRAYER IN CHURCH | LOOKING BACK

Team Eucharists and Evening Services in August
We continue our custom from previous years of having one Eucharist for the Team on each of three Sundays in August, with the service beginning at 10.30 a.m.:
7 August: Holy Trinity
14 August: St John's
21 August: Christ Church
Our normal morning pattern will resume on 28 August.

There will be no Evening Services in August.
(15 July 2022)

South London Citizens
South London Citizens have launched their second annual survey of south Londoners' mental health and wellbeing. Please take part in the survey, and encourage your friends, families and networks to do so, so that South London Citizens, and the groups they are working with, can hear from as many voices as possible.
(31 July 2022)
There is no longer a legal requirement to wear a face covering in church. The government suggests you continue to wear one in crowded or enclosed spaces where you may come into contact with other people you do not normally meet.


The Parish Eucharist with Baptisms on 7 August (Eighth Sunday after Trinity) at Holy Trinity led by Simon can be viewed as a video.

Service on 4 September (Twelfth Sunday after Trinity; Creationtide)
The Parish Eucharist at St John's will be led by Mark and will be uploaded to YouTube later in the day.

Services from previous weeks are on the Merton Priory Parish YouTube channel and listed on the 'Looking back' page.
(7 August 2022)
Holy Trinity is open for private prayer on Mondays from 3.00 to 6.00 p.m.
(14 November 2021)
Visit our archival resource to examine and use items from the weeks since 22 March 2020.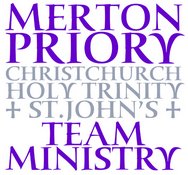 Merton Priory PCC charity number is 1134253

Prayer
Lord God, heavenly Father,
guide and direct us by your Holy Spirit,
that we may not forget our sins and be filled with pride,
but continue in daily repentance and renewal,
seeking our comfort only
in the blessed knowledge
that you will be merciful to us,
forgive us our sins
and grant us eternal life;
through your beloved Son,
Jesus Christ our Lord,
who lives and reigns with you and the Holy Spirit,
one God, now and forever.

MISSION STATEMENT
The Merton Priory Team Ministry is committed to promoting the Gospel of Jesus Christ according to the doctrines and practices of the Church of England. We are guided by our mission statement, agreed in 2011:

In Merton Priory Team Ministry we aim to be a community
Faithful to God
Sharing with those in need
Caring for one another