MENU
• Welcome
• Introducing the Parish
• Location
• Services
• Contacts
• Our mission statement
• Annual report 2020
• Safeguarding
• Looking back



(Website last updated on 23 January 2022)


CHURCH SERVICES IN THE TEAM
Midweek
Tuesday 8.00 a.m. Morning Prayer, St John's
Tuesday 5.00 p.m. Evening Prayer, St John's
Wednesday 8.00 a.m. Morning Prayer, St John's
Wednesday 5.00 p.m. Evening Prayer, Holy Trinity
Thursday 8.00 a.m. Morning Prayer, St John's
Thursday 12.15 p.m. Eucharist, Holy Trinity
Thursday 5.00 p.m. Evening Prayer, Christ Church
Saturday
9.00 a.m. Eucharist, Christ Church
Sunday
8.00 a.m. BCP Holy Communion, Christ Church
9.30 a.m. Parish Eucharist, St John's
10.00 a.m. Parish Eucharist, Holy Trinity
11.15 a.m. Parish Eucharist, Christ Church
6.00 p.m. Simple Eucharist, St John's



Collect for the Third Sunday of Epiphany
(23 January)
Almighty God,
whose Son revealed in signs and miracles
the wonder of your saving presence:
renew your people with your heavenly grace,
and in all our weakness
sustain us by your mighty power;
through Jesus Christ your Son our Lord,
who is alive and reigns with you,
in the unity of the Holy Spirit,
one God, now and for ever.

Copyright © The Archbishops' Council 2000


TEAM MINISTRY ROTA
The Team Ministry rota for December 2021 to February 2022 is available here.

If you find a broken link or just have a comment on the site, by all means get in touch.

Welcome to the website of the Parish of Merton Priory in South Wimbledon, London SW19.

The Merton Priory Team consists of three churches: Christ Church, Colliers Wood, St John the Divine, Merton, and Holy Trinity & St Peter, South Wimbledon.

Church notice sheet
Click on this link to read the latest notice sheet for the churches in the Merton Priory Team Ministry.
(21 January 2022)

Kitchen Blessing at Holy Trinity
All are invited to the blessing of the new kitchen at Holy Trinity on 6 February at 3.30 p.m. See the poster for details.
(20 January 2022)


Please note that face coverings are now mandatory at all our church services for those who are not exempt.

The Parish Eucharist on 23 January (Third Sunday of Epiphany) at Christ Church led by Alison can be viewed as a YouTube video. You are invited to take part by following along with the order of service and the collect and readings.

Service for 30 January (Presentation of Christ in the Temple)
The Parish Eucharist at Holy Trinity will be led by Mark and will be uploaded to YouTube later in the day.

Services from previous weeks are on the Merton Priory Parish YouTube channel and listed on the 'Looking back' page.
(23 January 2022)
Holy Trinity is open for private prayer on Mondays from 3.00 to 6.00 p.m.
(14 November 2021)
When it isn't possible to join with the local church,

this outline

is designed to help you have a short time of worship as a household.

You are also invited to follow the Royal School of Church Music's

Hymn of the Day, and Sunday Self-Service

, a simple act of worship with music, readings and prayers which will change weekly.

(29 March 2020)

The term 'Spiritual Communion' describes the means of grace by which a person, prevented for some serious reason from sharing in a celebration of the Eucharist, nonetheless shares in the communion of Jesus Christ. You are invited to join in

these prayers

as an opportunity to give thanks for your communion with him while unable to be present at the Eucharist.

(3 May 2020)
Visit our archival resource to examine and use items from the weeks since Mothering Sunday (22 March) 2020.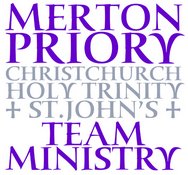 Merton Priory PCC charity number is 1134253

Prayer
In the waters of baptism we were made God's children
and called to serve one another as we have been served by Christ.
Therefore let us pray for one another and for all people
who will not or cannot pray for themselves.
Amen.

MISSION STATEMENT
The Merton Priory Team Ministry is committed to promoting the Gospel of Jesus Christ according to the doctrines and practices of the Church of England. We are guided by our mission statement, agreed in 2011:

In Merton Priory Team Ministry we aim to be a community
Faithful to God
Sharing with those in need
Caring for one another