MENU
• Welcome
• Inspiration and comfort
• Introducing the Parish
• Location
• Services
• Contacts
• Our mission statement
• Annual report 2020
• Safeguarding
• Looking back



(Website last updated on 24 October 2021)

LATEST SUNDAY SERVICE ONLINE
24 October (Last Sunday after Trinity): video

CHURCH SERVICES IN THE TEAM
Midweek
Tuesday 8.00 a.m. Morning Prayer, St John's
Tuesday 5.00 p.m. Evening Prayer, St John's
Wednesday 8.00 a.m. Morning Prayer, St John's
Wednesday 5.00 p.m. Evening Prayer, Holy Trinity
Thursday 8.00 a.m. Morning Prayer, St John's
Thursday 12.15 p.m. Eucharist, Holy Trinity
Thursday 5.00 p.m. Evening Prayer, Christ Church
Saturday
9.00 a.m. Eucharist, Christ Church
Sunday
9.30 a.m. Parish Eucharist, St John's
10.00 a.m. Parish Eucharist, Holy Trinity
11.15 a.m. Parish Eucharist, Christ Church
6.00 p.m. Simple Eucharist, St John's



Collect for Bible Sunday
(24 October)

Blessed Lord,
who caused all holy Scriptures to be written for our learning:
help us so to hear them,
to read, mark, learn and inwardly digest them
that, through patience, and the comfort of your holy word,
we may embrace and for ever hold fast
the hope of everlasting life,
which you have given us in our Saviour Jesus Christ,
who is alive and reigns with you,
in the unity of the Holy Spirit,
one God, now and for ever.

Copyright © The Archbishops' Council 2000


TEAM MINISTRY ROTA
The Team Ministry rota for September to November is available here.

If you find a broken link or just have a comment on the site, by all means get in touch.

Welcome to the website of the Parish of Merton Priory in South Wimbledon, London SW19.

The Merton Priory Team consists of three churches: Christ Church, Colliers Wood, St John the Divine, Merton and Holy Trinity & St Peter, South Wimbledon.

Church notice sheet
Click on this link to read the latest notice sheet for the churches in the Merton Priory Team Ministry.
(21 October 2021)

Black History Month
The Black Asian Minority Ethnic Voice invites you to celebrate Black History Month with them at Wimbledon Library on Saturday, 30 October between 11 a.m. and 5.30 p.m. Under the theme of 'The written word – a vehicle for Health and Healing', there will be discussions, drama, arts and crafts, music and much more. Entry is free please put the date into your diary.
(8 October 2021)

Sunday evening services
Evening Service has resumed weekly with a Simple Eucharist for Creationtide. We will continue to experiment with it taking place at St John's at 6 p.m. with a similar pattern of Contemplative and Celtic Worship, and Eucharist with Prayers for Healing being followed.
(19 September 2021)


Now that we are in step four, official restrictions are lifted and so all are welcome to attend. We will be maintaining a range of habits and moving gradually on the reintroduction of other practices.

Do speak with the clergy or churchwardens if you have any specific queries or comments. God bless and keep us all.

The Service of Morning Prayer on 24 October (Last Sunday after Trinity) at St John's led by Simon can be viewed as a YouTube video.

Service for 31 October (All Saints' Day)
The Parish Eucharist at Christ Church will be led by Alison and will be uploaded to YouTube later in the day.

Services from previous weeks are on the Merton Priory Parish YouTube channel and listed on the 'Looking back' page.
(24 October 2021)
Holy Trinity is open for private prayer on Mondays from 3.00 to 6.00 p.m.

We pray for our NHS, for all afflicted with COVID, for those who have died, for all who grieve, for the roll-out of the vaccine and for one another: O God, make speed to save us; O Lord, make haste to help us.
(26 September 2021)
Katharine von Schubert, Diocesan Mission Enabler, guided some 30–40 church members through a discussion on what is the Church, cultural changes in recent generations, an exercise discerning people's gifts, feedback from the questionnaires that church members completed over the summer, a look at our parish demographic and various key features and communities, and the Five Marks of Mission; we also enjoyed lunch together and had a walk around the immediate St John's area. Our main shared focus for mission across the three churches became how to encourage growth at St John's, namely to grow a thriving congregation serving its local community. A fuller summary can be found in this PDF file.
(29 September 2021)
When it isn't possible to join with the local church,

this outline

is designed to help you have a short time of worship as a household.

You are also invited to follow the Royal School of Church Music's

Hymn of the Day, and Sunday Self-Service

, a simple act of worship with music, readings and prayers which will change weekly.

(29 March 2020)

The term 'Spiritual Communion' describes the means of grace by which a person, prevented for some serious reason from sharing in a celebration of the Eucharist, nonetheless shares in the communion of Jesus Christ. You are invited to join in

these prayers

as an opportunity to give thanks for your communion with him while unable to be present at the Eucharist.

(3 May 2020)
Visit our archival resource to examine and use items from the weeks since Mothering Sunday (22 March) 2020.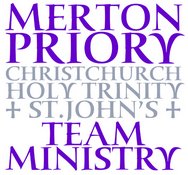 Merton Priory PCC charity number is 1134253

MISSION STATEMENT
The Merton Priory Team Ministry is committed to promoting the Gospel of Jesus Christ according to the doctrines and practices of the Church of England. We are guided by our mission statement, agreed in 2011:

In Merton Priory Team Ministry we aim to be a community
Faithful to God
Sharing with those in need
Caring for one another